The Power of Lean & Lean Six Sigma
Some of today's most respected companies—including Toyota, GE, Motorola, Allied Signal, and Sun Microsystems—have used Lean and / or Lean Six Sigma to improve their organizations. Join the ranks of these successful corporations and let Lean / Lean Six Sigma work for you.
Lean / Lean Six Sigma are process-improvement methodologies that accelerate processes, increases efficiency, and reduces or eliminates variation. Competition for the same customers is increasing throughout the corporate world, putting company profits on the line; customer expectations are changing rapidly as the rate of information increases; and costs are escalating. Now more than ever, achieving process excellence is essential.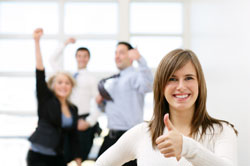 Our programs give you valuable business tools to achieve process excellence and help your team:
Redesign flow to better account for customer and supplier variability and reduce waste
Analyze the root cause of product problems
Make informed decisions about cost benefit of a company project
Capture meaningful metrics to help know and grow your business
Experiment to determine best practices to deliver quality, every time